With such busy lives, often the idea of staying in sounds so much more appealing than going out. But, staying home doesn't mean that you have to live without date night! Here are some great stay at home date night ideas that will guarantee a nice, romantic evening in with your special someone. If kids are in the picture, a lot of these ideas can happen after they're in bed. Better yet, hire a babysitter to take your kids somewhere, or swap off with some friends for a while. You can return the favor later!
Simple, Quiet Dinner – Order takeout, light some candles and use one of these conversation starters to get the talking started. This romantic mad lib would also be a great way to pass the time during your date night!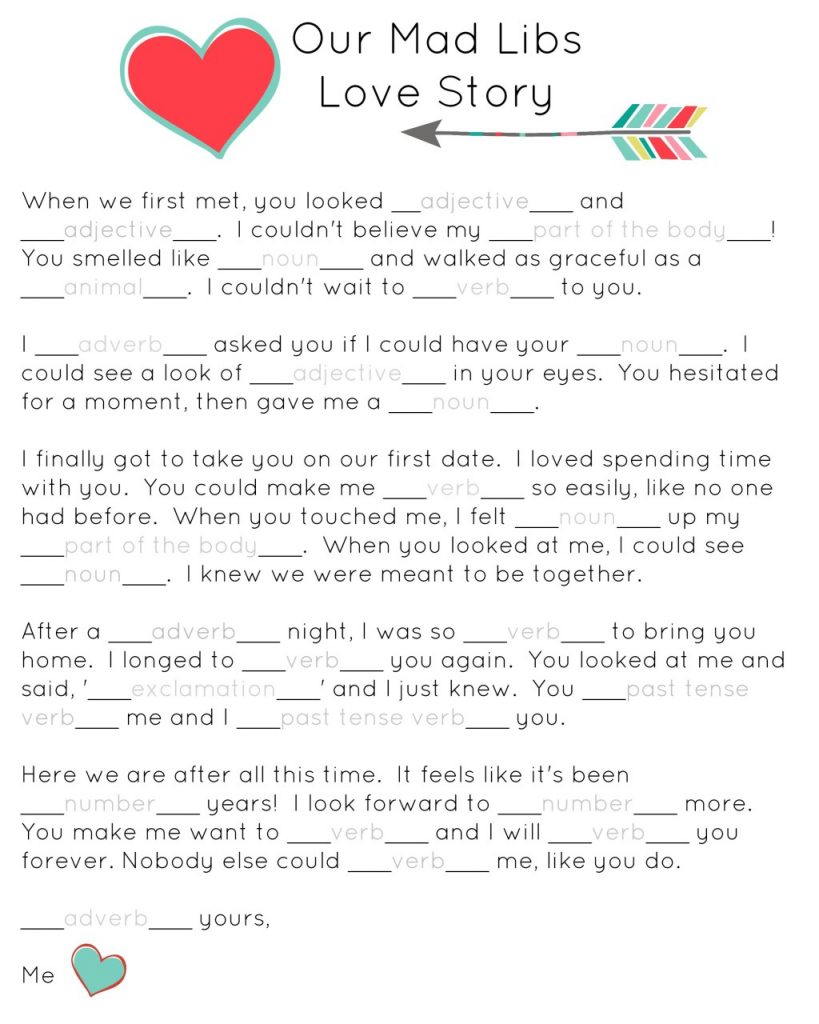 Movie Marathon – Grab some of your favorite candy from the store, pop some popcorn and settle in for a night at the movies. Each of you pick your favorite and enjoy! Just be sure to keep an open mind about each other's picks. And keep your partner in mind when making your choice.
Have a tapas(ish) night! Order your favorite appetizers from a couple of different restaurants, bring them home and serve several courses of a variety of nibblies. Finish the night off with a mix of small desserts and coffee. This idea is fun because you could easily wind up having leftovers and you can have a "repeat" the following night!
Book a Couple's Massage – Call your local massage joint (the legit ones, please) and have 2 massage therapists bring their tables to your home. Light some candles in the room, enjoy the massage and time relaxing together. Shower off those oils together afterward! Money tight? No worries. Take turns massaging each other instead. Grab some tips here! And get your oils here. (affiliate)
Wine/whiskey/beer/chocolate tasting party – You'll want to just pick one item for tasting or you may not remember the evening! Set up a tasting party for you and your beloved. Ask some friends to share some of their stash if you don't want to go broke buying booze! Places like World Market, Earth Fare and other markets have a great international beer section and you can do mix and match 6 packs. Perfect for a tasting party.
Have a Game Night – There are so many fun 2 person games out there! Yahtzee (affiliate) and Jenga (affiliate) are two that first come to mind. They're fun and it's easy to talk while you play. Dominoes are also great fun! If you're trivia buffs, Trivial Pursuit is always a fave. Have a deck of cards handy? Play some Rummy or Slapjack (this one will leave you giggling in a heap!). Another fun card game that a lot of people haven't heard of is Mille Bornes (affiliate). It's a personal fave! Of course, a nice round of strip poker might be nice, too!
Take a Trip Abroad (Without Leaving Your House) – Ever wanted to go to Hawaii? Or England? Maybe the Orient? Look up a recipe (or order some fun takeout), pick out a movie from that locale, add some fun decor and transport yourselves for the evening without having to check your baggage! This post shows how to pull together a Japanese themed dinner party – easily pare it down to dinner for two!
Get artsy/craftsy – There's no need to spend a fortune on paint parties, ceramics studios, or other places. YouTube has some great beginner art lessons and most of the craft stores have easy to complete art projects. Make freezer paper stenciled t-shirts. Get dressed up in your best clothes (or some fun costumes) and take some photos. Pinterest is full of creative ideas!
Let us know when you try one of these date night ideas – or if you have another idea that should go on the list! Comment below, and pin this post for later!