Dads are great. They work hard and play hard. So when it comes to Dad's Day, it's important to find just the right way to say "I love you." We've rounded up lots of DIY (and some buyable) Father's Day gift ideas for making his day fun!
 Handmade from the Heart
We love a free printable! Have your kids fill in these blanks for a keepsake he'll love!
Make this cool phone dock that would be great on dad's desk at work or a funky addition to the decor at home!
We love this Lego pen holder! As an added bonus, it holds a picture! Round up your Legos and get started.
What a great DIY for the handy man in your house! If your house is like mine, you might already have some spare nuts and bolts hanging out waiting for a purpose. Click here to see the finished product!
This is the sweetest little thing. What papa wouldn't love it?
Can't. Even. The cuteness is killing me! Do you remember Shrinky Dinks? This tie tack is ADORABLE!
Yet another great business attire accessory – monogram Scrabble cufflinks!
Is the dad in your life and audiophile? Make him this Vintage Record Clock!
Creative Photo Ideas
This is a neat alternative to a standard kid pic! Love the idea!
The red heart really makes this photo extra special! (source)
For the Grillers
This is a great tutorial for a fun and functional gift to use during cookouts!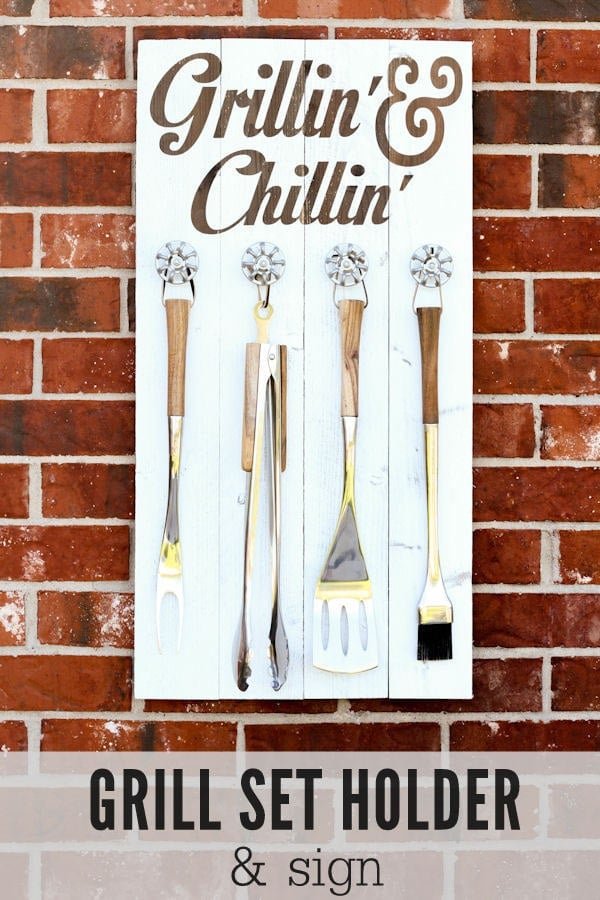 This is one heavy duty grill set (affiliate link) that's perfect for your grill master!
For the Funny Dad
Do you all like to razz dad? This shirt (affiliate link) is sure to get a giggle!
This is another funny option! (affiliate link) Keep him humble!
Food Gifts
Who knew there was so much "pop" food out there?! We're crazy about this basket!
Another free printable! Put together a great "stashe" for your dad!
Miscellaneous
Dads will love hanging out in this portable hammock! It's portable and comes in lot of different colors! (affiliate link)
For the bartending dad in your life, this is a great option for a handmade/store bought combo.
We hope you've found some Father's Day gift ideas in this post to make the dad(s) in your life feel super special and loved. Love more than one idea? Pin this post for next year!