A funny thing happens when you start looking for neat ideas and tips on a particular topic – you keep finding them LONG after a post is finished. This post had lots of great ideas, but it seems that it was only the tip of the iceberg. We've now rounded up a whole new crop of herb gardening tips and ideas!
Tips
First off, it might be nice to know WHICH herbs are your best bet for an indoor herb garden. This list will help.
Also, this list of air purifying herbs is quite useful! Breathe a little easier knowing your herbs serve dual purposes!
Planters
Mason jars. We heart mason jars so much. Check out this mason jar herb garden!
Pegboard. Mugs. Nothing too difficult here. And the result is precious! And space-saving!
You won't believe how simple this container garden is. Maybe a new fave! The handle makes it so easy to move into sunlight!
Practical solutions make us swoon! This window herb garden is simple and sensible!
Are we noticing a theme in responsible space usage yet? This container garden would work on a back stoop or in a sunny indoor corner.
 This gutter and chalkboard solution is so great! Gutters make for a lightweight vertical option for a hanging garden.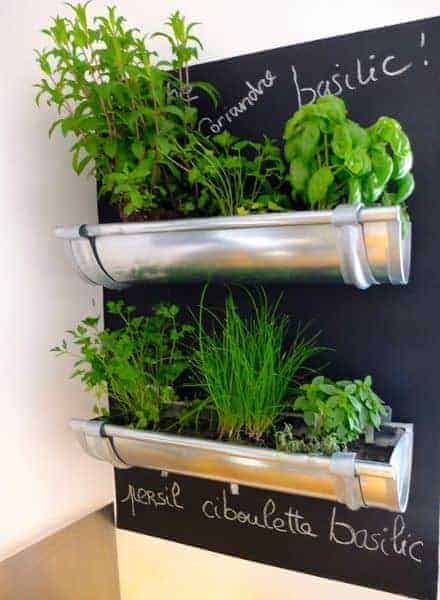 Everyone has tin cans around!
Tools
Ready to get your little herbs started? Grab one of these babies (affiliate link) to get those seedlings going. Don't forget to label what you've planted!
And then grab some seeds! These (affiliate link) from Living Whole Foods are just one of many options!
Are you an indoor herb gardener? Let us know your favorite planter options!
Be a friend! Share and pin!